In the dynamic world of smartphone construction, the choice of materials plays a vital role in determining both performance and consumer appeal. Samsung's recent decision, as suggested by circulating rumors, to embrace titanium as the core frame material for their next-gen Galaxy S24 Ultra raises both eyebrows and questions. Does this switch signify a new trend or is it just another chase in the game of tech rivalry?
The Titanium Decision by Samsung
It's been whispered through the tech grapevines that Samsung's Galaxy S24 Ultra might have a distinguishing feature: a titanium frame. This revelation, if true, will mark the first instance of a Samsung smartphone crafted out of this strong metal.
"According to Korean tech news site The Elec, the company has apparently been considering using titanium in its devices for the past two years, but only recently made the decision to implement it."
The sudden choice of titanium appears to be a reaction to Apple's recent leap with the iPhone 15 Pro, which also adopted the same metal. The decision comes at a cost. A significant one. While the current aluminum cases Samsung uses come at about $20 per unit, this titanium switch could see them shell out around $100 per unit. That's an estimated collective spend of a whopping $1.5 billion.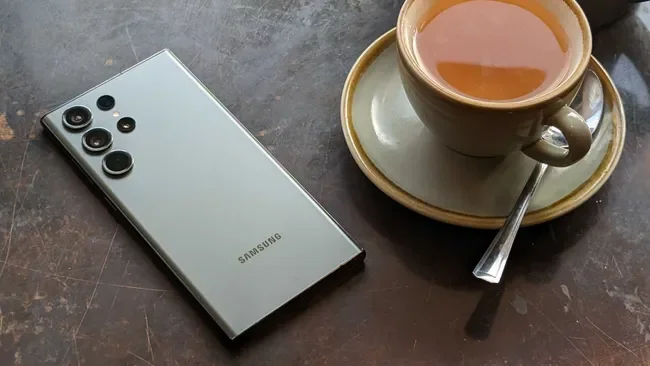 Implications of the Titanium Choice
1. A Heftier Price Tag?
While titanium has its perks, it could push the S24 Ultra's price point up, forcing consumers to dig deeper into their pockets. The increment would likely compensate for the surging manufacturing costs.
"It's entirely possible the S24 Ultra could see a significant price increase from the Galaxy S23 Ultra to make up for the cost in manufacturing."
2. A Weighty Matter
Choosing titanium might have another consequence: weight. Unlike the iPhone 15 Pro, which saw a decrease in weight despite using titanium (thanks to its former use of denser stainless steel), the Galaxy S24 Ultra could tip the scales a bit more since titanium is denser than aluminum.
For the first time in a while, Samsung is said to significantly change the design of its Galaxy flagships. Check out these renders that visualize all of the rumored differences. https://t.co/z3pxryVOKm

— PhoneArena (@PhoneArena) November 3, 2023
Future of Titanium in Samsung's Arsenal
While speculations are rife about the S24 Ultra's titanium frame, there's ambiguity about its siblings. Will the Galaxy S24, S24 Plus, or other Samsung models sport this metal? It remains uncertain. However, one thing seems probable:
"The Elec claims that 'depending on [the] reception', future Galaxy models could be made out of titanium."
But don't expect this shift in foldables. Titanium's unique properties, which include challenges in cutting and processing, might not be the best fit for foldable tech.
Colorful Ambitions
Adding to the list of speculations is the color palette for the S24 series. A tweet from industry insider Ice Universe hinted at a diverse range:
"The Galaxy S24 series will be available in seven different colors: black, gray, violet, yellow, green, blue, and orange."
While the exact shades remain under wraps, eager fans can check out PhoneArena's renders for a possible sneak peek.
In Anticipation
All rumors have their element of uncertainty, so while the titanium buzz is exciting, it's advisable to await official confirmation.
"As with every rumor, take this information with a grain of salt."