Introduction to EmuDeck: Elevating Your Steam Deck Experience
The Steam Deck has revolutionized handheld gaming, offering a unique blend of portability and power. With the advent of OLED models, the visual experience is set to reach new heights, especially for retro games. EmuDeck, a unique emulation software, steps in to harness this potential, making the installation of various emulators a breeze.
EmuDeck: A New Era of Emulation
Differing from traditional emulation approaches like RetroArch, EmuDeck simplifies the process. It manages multiple emulators, ensuring you have the latest updates and a wide range of options. This ease of use marks a significant advancement in the realm of emulation software.
Step-by-Step Installation of EmuDeck
Installing EmuDeck is straightforward. Here's a quick guide:
Downloading EmuDeck: Visit the EmuDeck website and download the software.
Initial Setup: Upon launching, EmuDeck will ask for the installation location. If using an SD card, format it to ext4 via SteamOS' Game Mode or KDE Partition Manager in Desktop Mode.
Installation Process: EmuDeck then downloads and installs various emulators, including those for PS3, PS2, and other consoles.
Post-Installation Organization: To access these emulators in SteamOS game mode, further organization is required. This involves using Steam Rom Manager.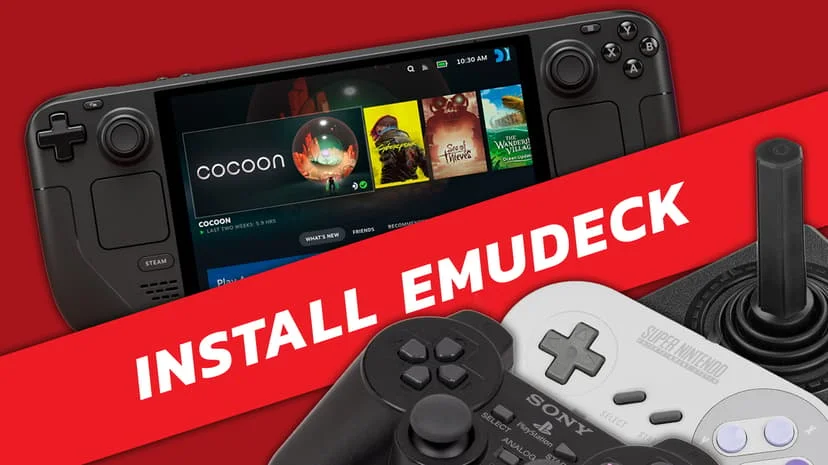 Steam ROM Manager: Integrating Your Library
Steam ROM Manager is crucial for incorporating your game library into the Steam Deck's game mode. It requires specifying the installation and game save locations.
Utilizing Steam ROM Manager
Follow these steps to use Steam ROM Manager effectively:
Launching EmuDeck and Steam ROM Manager: In EmuDeck, navigate to 'Tools & Stuff' and select Steam ROM Manager.
Configuring Emulators: Choose the emulator (e.g., DuckStation for PS1) and set up the directories for games and emulators. For instance, the directory might look like /home/deck/Emulation/roms/psx.
Setting Up BIOS: For some emulators, BIOS files are necessary and should be placed accordingly.
Integrating into Steam: Use the 'generate app list' and 'save app list' options to integrate your games into Steam.
Embracing the Retro Gaming Revolution
EmuDeck stands out as a game-changer in the world of Steam Deck gaming. Its user-friendly interface and comprehensive emulator management system make it an essential tool for any retro gaming enthusiast. By following the steps outlined in this guide, you can effortlessly integrate a vast array of retro games into your Steam Deck, ensuring a seamless and enjoyable gaming experience.