A Dive into Alan Wake 2's Graphics Rendering
The gaming community is buzzing with excitement as "Alan Wake 2" hits the market. Known for pushing the envelope in 3D rendering, particularly in its lighting techniques, Remedy's latest release has sparked interest across gaming forums and tech communities alike. While the game exhibits superior graphic quality, it's equally demanding on the hardware.
"Alan Wake II is quite demanding. Even without ray tracing, you'll need upscaling for a smooth, lag-free experience. Path tracing, enabled at Ray Tracing "High," requires Frame Generation for acceptable frame rates."
Our Test Bench Configuration
Before diving into the performance metrics, let's outline our testing framework:
CPU: Intel Core i9-13900K
Cooler: Lian Li Galahad 360
Motherboard: ASUS ROG Maximus Z790 Hero
Memory: 16GB x2 @6000MT/s CL38
PSU: Corsair RM1000E
Graphics Card Showdown: Performance at Various Settings
Ultra Settings Without Ray Tracing
Testing the game at the "Ultra" settings sans ray tracing delivered some interesting numbers. On top, NVIDIA's RTX 4090 gave a striking average of 117 FPS at 1080p. AMD's Radeon RX 7900 XTX wasn't far behind, averaging 101 FPS, while the RTX 4080 lagged slightly with 93 FPS.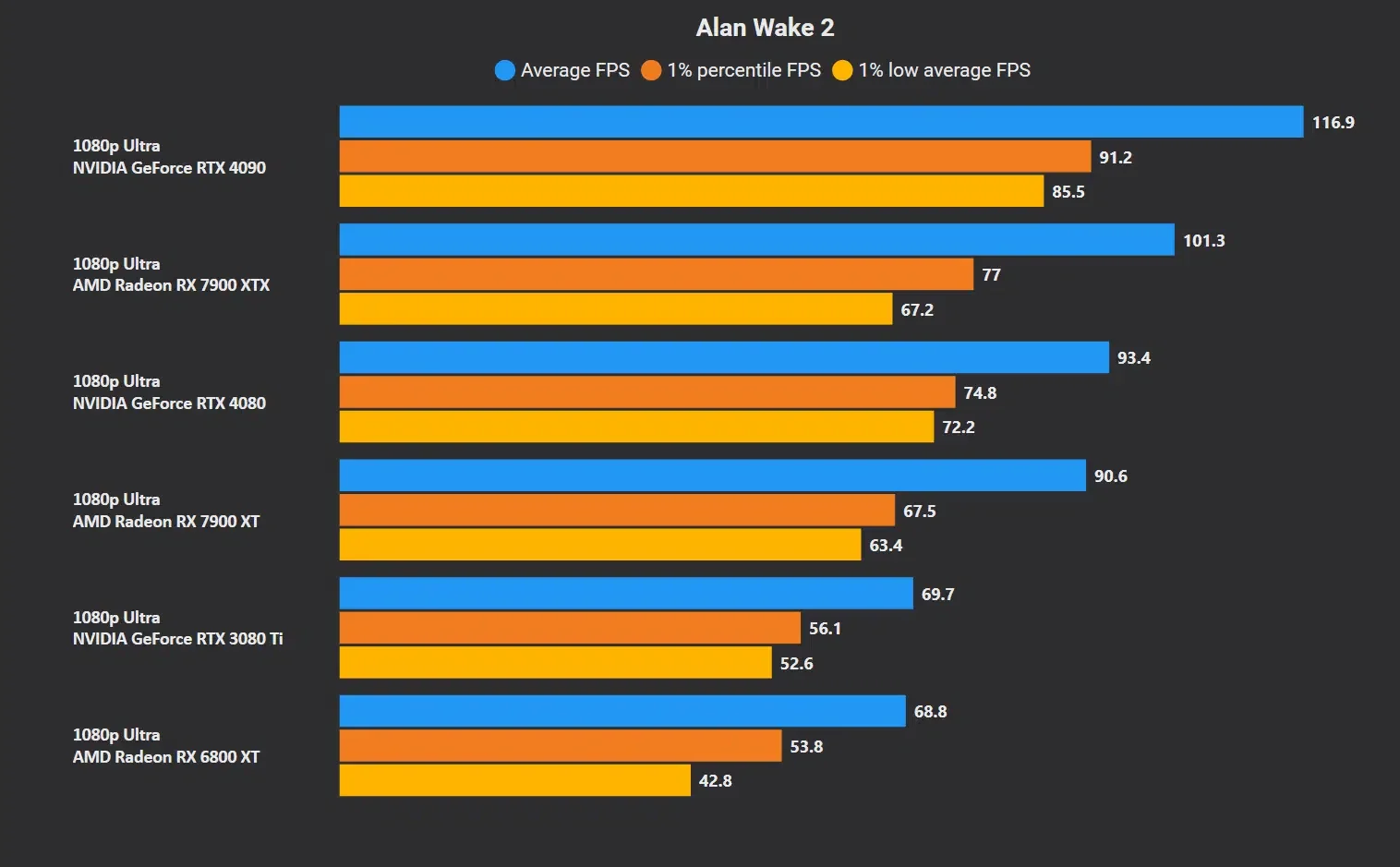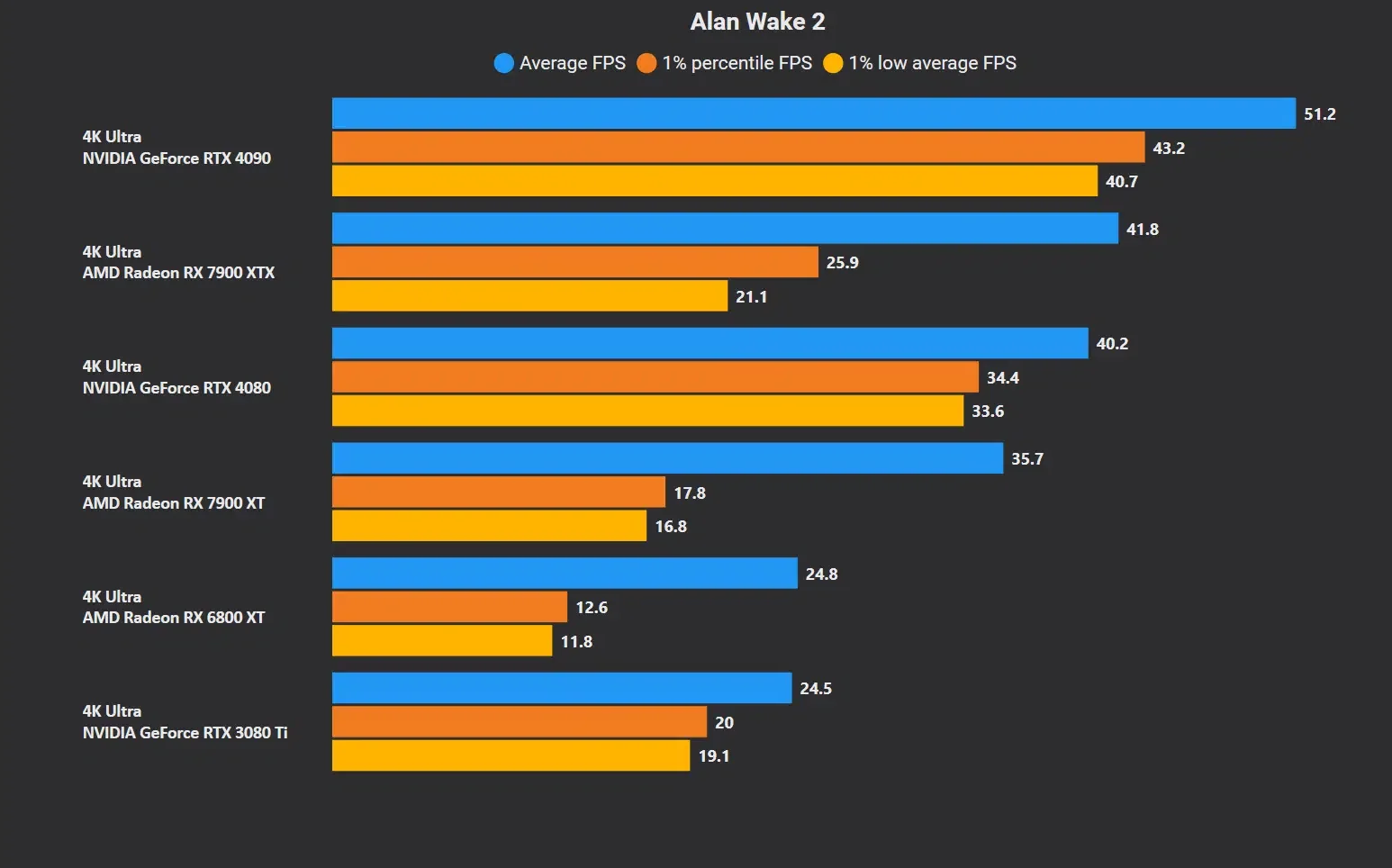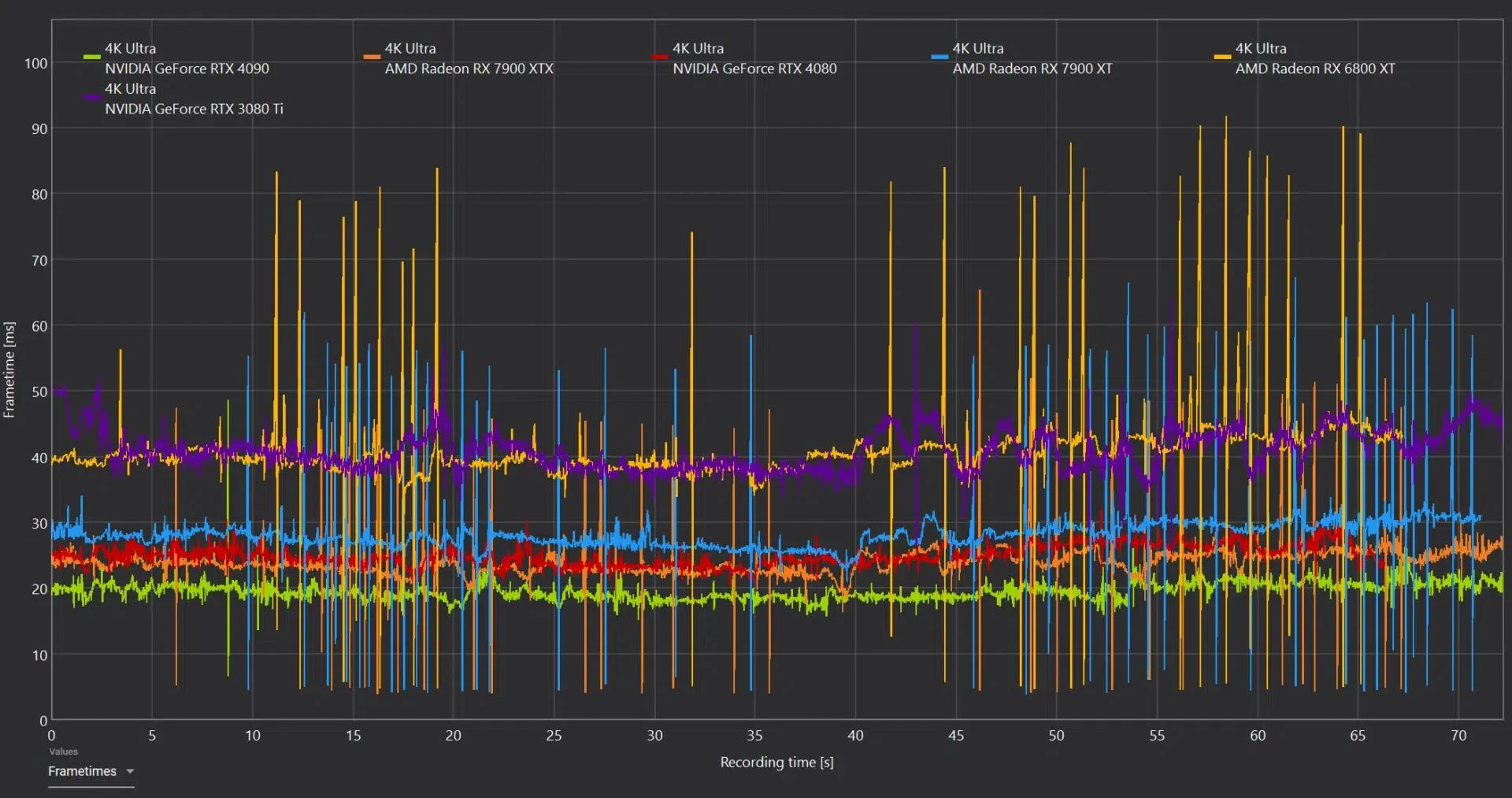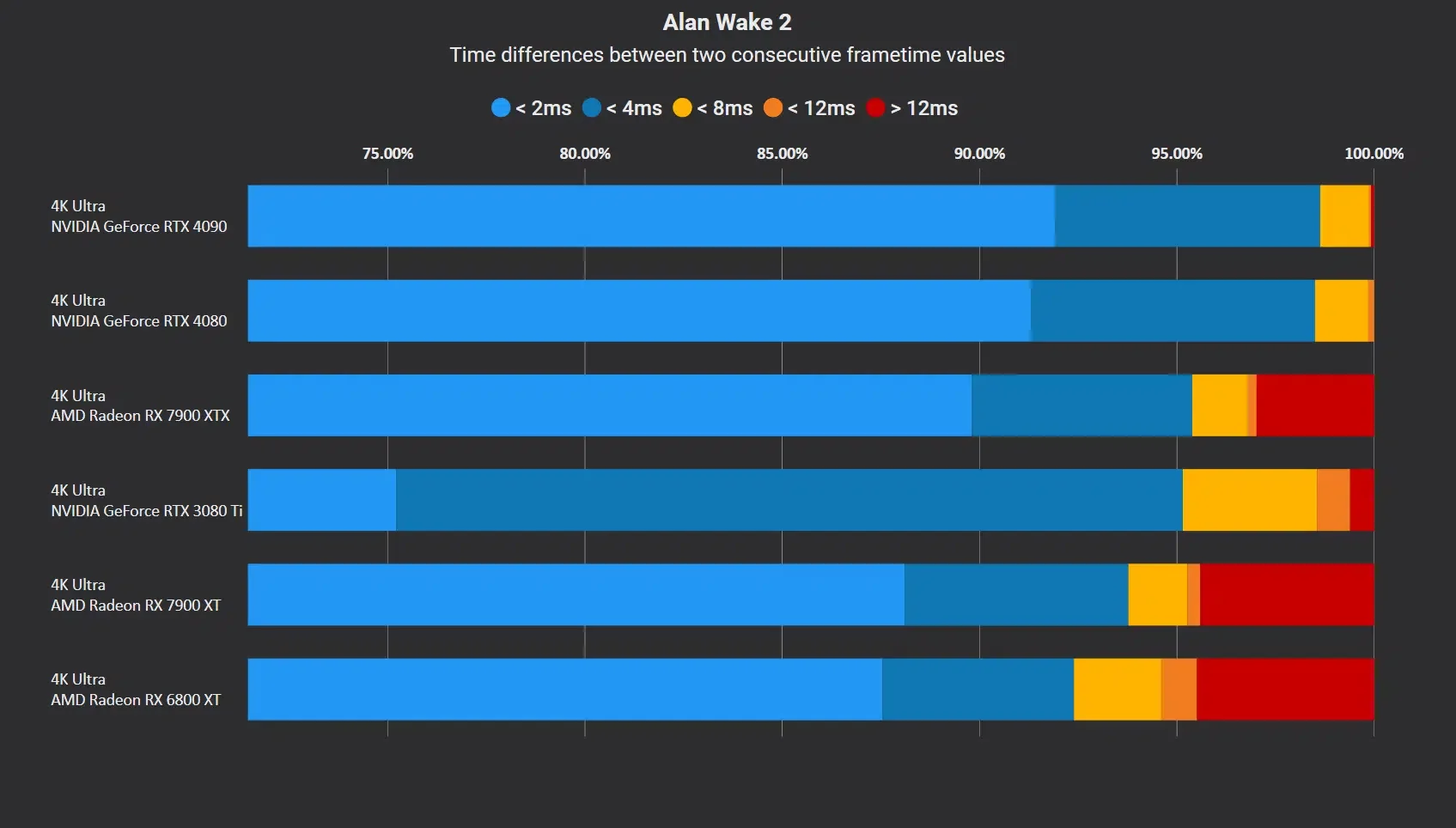 It's worth noting how different cards performed:
"At 1080p Ultra, the GeForce RTX 4090 averaged 117 FPS, followed by the Radeon RX 7900 XTX and the RTX 4080 with 101 FPS and 93 FPS, respectively."
However, as we pushed the resolution to 1440p and 4K, even the market's top contenders couldn't hit consistent 60 FPS averages, especially without engaging ray or path tracing.
Ray Tracing "Low" Settings
Turning our attention to the Ray Tracing "Low" settings, Alan Wake II employs direct lighting and reflections while sidelining path tracing. Players possessing NVIDIA RTX GPUs get an added advantage here—they can activate Ray Reconstruction, leveraging an AI-fueled denoiser to elevate both lighting quality and performance.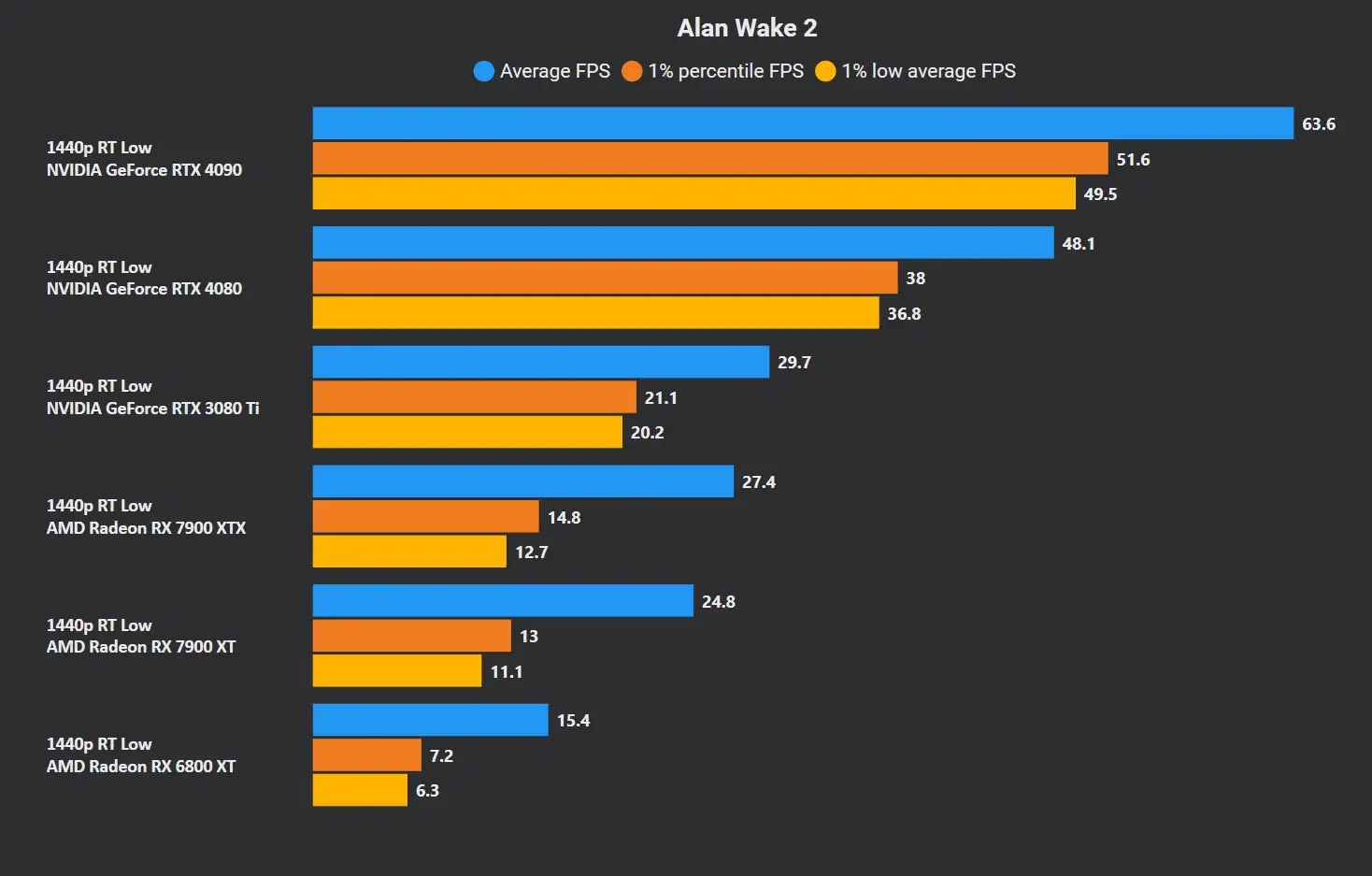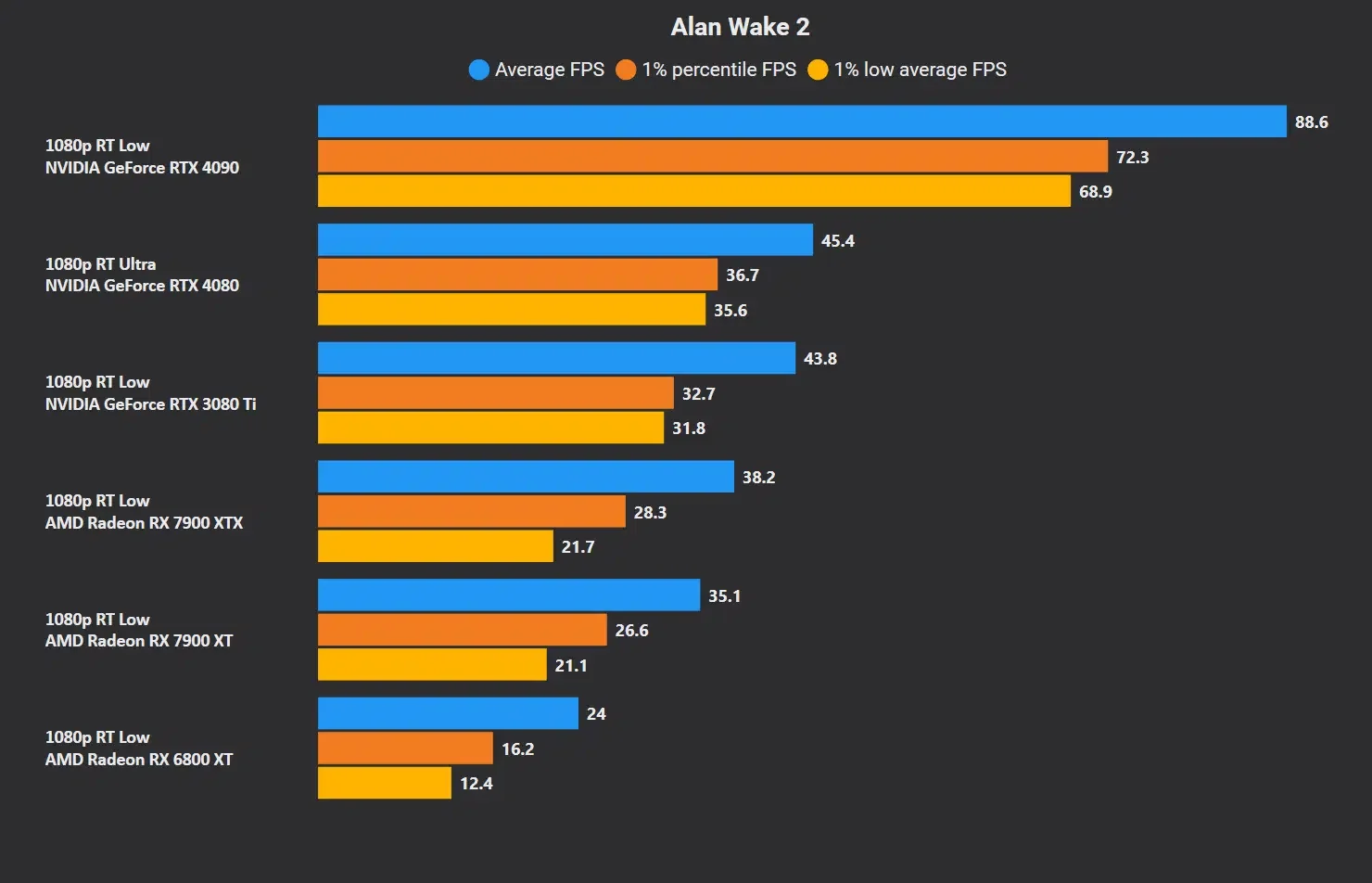 "At the Ray Tracing "Low" quality preset, Alan Wake II uses direct lighting and reflections… Players with NVIDIA RTX GPUs can enable Ray Reconstruction, which uses an AI-based denoiser to improve lighting quality and performance."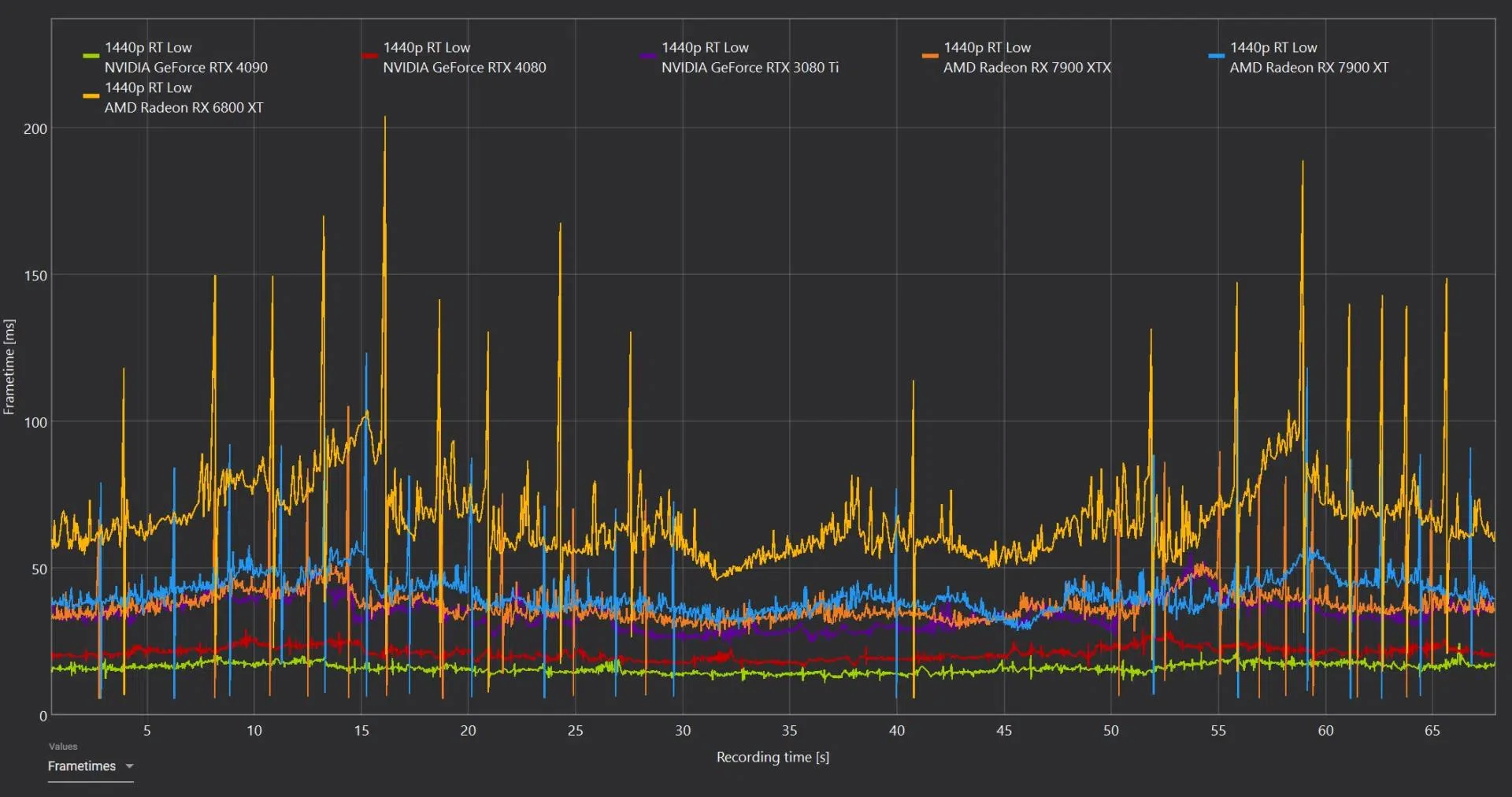 The 1080p resolution saw the RTX 4090 as the lone GPU crossing the 60 FPS threshold. However, as we scaled to 1440p and 4K, most GPUs stumbled, showing a significant decline in performance.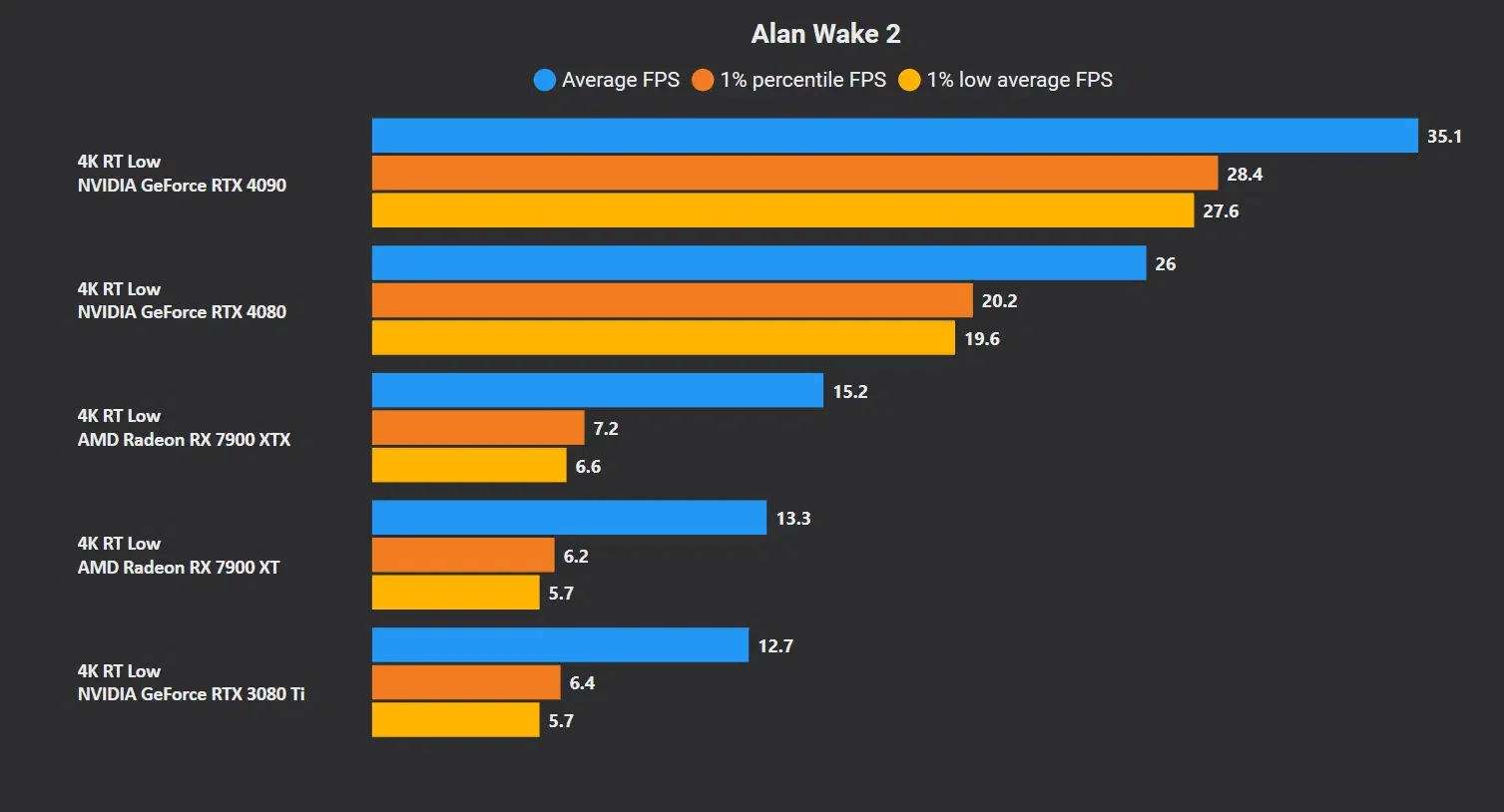 Notable Observations and Takeaways
One intriguing observation was the inconsistency in performance between Radeon and GeForce cards. Despite certain Radeon GPUs showing higher average frame rates, they were plagued by intermittent stuttering, presenting a less than ideal gameplay experience.
The extensive testing also spotlighted the unmatched performance of NVIDIA's RTX 4090, which consistently led the pack across various settings and resolutions. This makes it a go-to option for hardcore gamers aiming for an optimal Alan Wake 2 experience.
Final Thoughts on Alan Wake 2's Performance Metrics
Gaming aficionados will likely be drawn to "Alan Wake 2" for its stellar graphics and intense storytelling. However, the game's demanding nature means players will need to ensure their hardware is up to the task. While NVIDIA's RTX 4090 emerged as the standout performer, other GPUs also showcased their strengths and weaknesses. In the end, achieving that perfect, lag-free gaming nirvana might require some tweaking and a keen understanding of your machine's capabilities.